PRIHATIN x DXN at DXN Petaling Jaya
PRIHATIN x DXN at DXN Petaling Jaya
Good morning DXN Family,
DXN in collaboration with Yayasan Prihatin Nasional (Prihatin X DXN) had once again done its part in helping those in need. Concerned and committed to ensure the wellbeing of DXN families that were affected by the recent flooding situation, DXN had recently organized a simple ceremony to present aid to the affected victims. The event was held at DXN PJ Branch.
Images
Press Conference for Sentuhan Kasih PRIHATIN x DXN
ALLOCATION OF 1.56 MILLION FROM PRIHATIN AND DXN TO EASE BURDEN OF FLOOD VICTIMS
KUALA LUMPUR, 22 January 2022 – A total of 500 flood victims from the Jalan Tiong Nam and Kuala Lumpur area have received benefits from the Program Sentuhan Kasih PRIHATIN x DXN; a collaboration between Yayasan Prihatin Nasional (PRIHATIN) and DXN Holdings Berhad with support from Badan Amal Warga Asnaf Malaysia (BAWA). The program was held at the Koptown EDC Hotel Kuala Lumpur and was officiated by Dato' Mohd Aizuddin Ghazali, the Chief Executive Officer of Yayasan Prihatin Nasional (PRIHATIN). PRIHATIN x DXN donated washing machines, refrigerators, rice cookers, fans, mattresses, basic food necessities, and clothes to flood victims.
Sentuhan Kasih PRIHATIN x DXN is an initiative by NGOs and corporate organizations in showing their care to ease the burden faced by the flood victims that were affected by the massive flood that hit the country recently. The program was conducted as a response to the government's call in embracing hardships together and to live as 'Keluarga Malaysia' that helps each other.
The Chief Executive Officer of PRIHATIN, Datuk Aizuddin Ghazali said, "I feel very sad and have been deeply affected by the fate of Malaysians that were devastated by the severe flood that has caused damage to properties, loss of shelter, and also loss of loved ones. This flood that hit us recently was indeed shockingly unusual although it is something that happens to us almost every year. I hope that organizations will contribute and offer help to ease the burden that is faced, especially by the flood victims. Therefore, it is hoped that Sentuhan Kasih PRIHATIN x DXN, will be able to ease the difficulties faced by those affected and in small ways lessen the suffering of the receivers.
"The concern shown by Datuk Lim, the Chief Executive Officer and Founder of DXN in providing funds to PRIHATIN should be an example to every corporate organization and government agencies in injecting monetary funds to associations or foundations that is based on charity, as indirectly, it could help to spur them to work even better and quicker, and be a form of positive encouragement to the receivers that were affected by the flood," he added.
The strategic relationship between PRIHATIN and DXN will be fortified through more programs that will be planned together throughout the year.
Images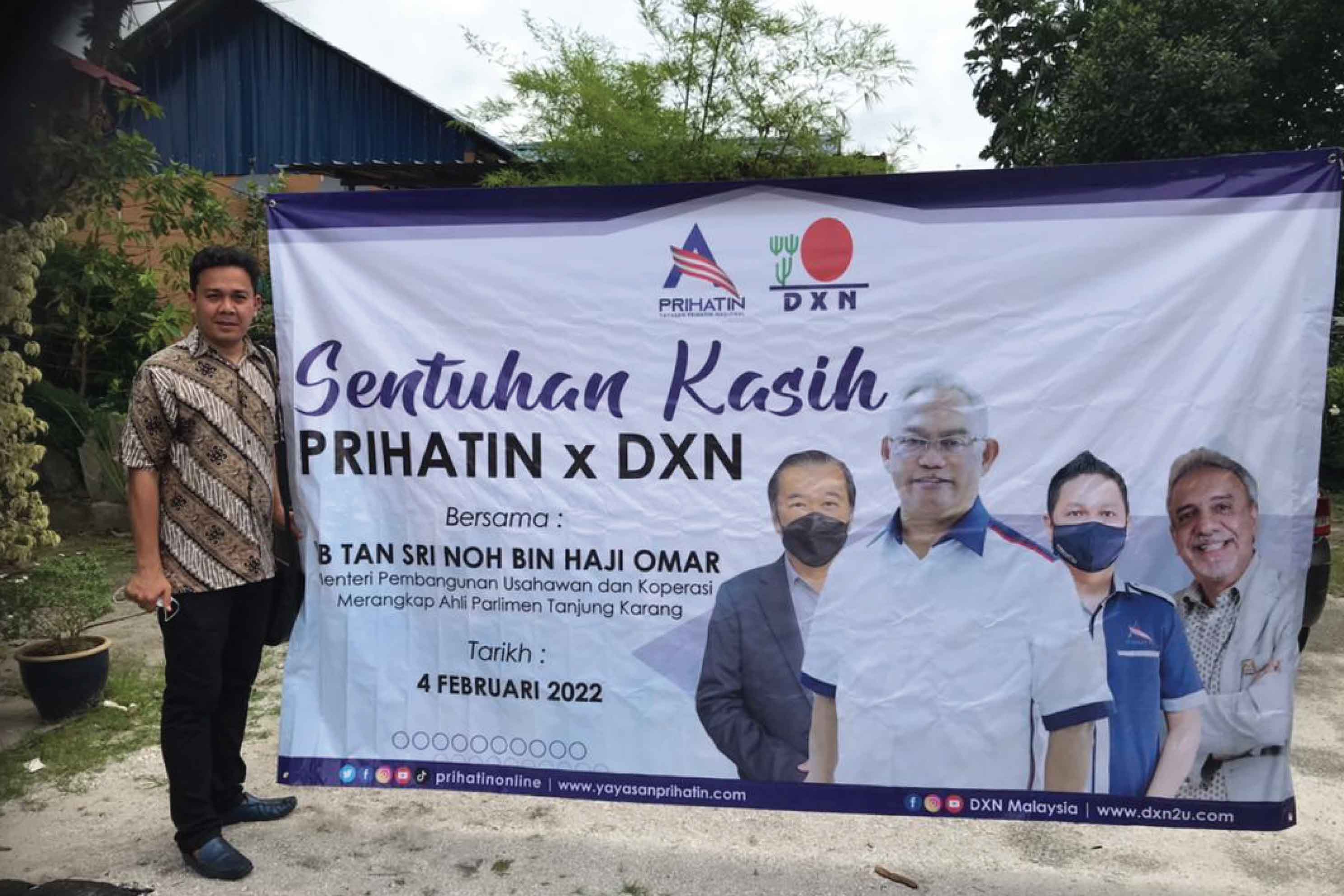 Videos
MCA Fundraising for UTAR Hospital
MCA Fundraising for UTAR Hospital
DXN has once again done its part in support of social service campaigns that are for the benefit of future generations. DXN donated RM1,000,000.00 through the PRIHATIN-DXN organisation. The fundraising for the UTAR Hospital was organized by the UTAR Education Foundation. The ceremony took place at the UTAR Kampar Campus on 21st January 2022.
Images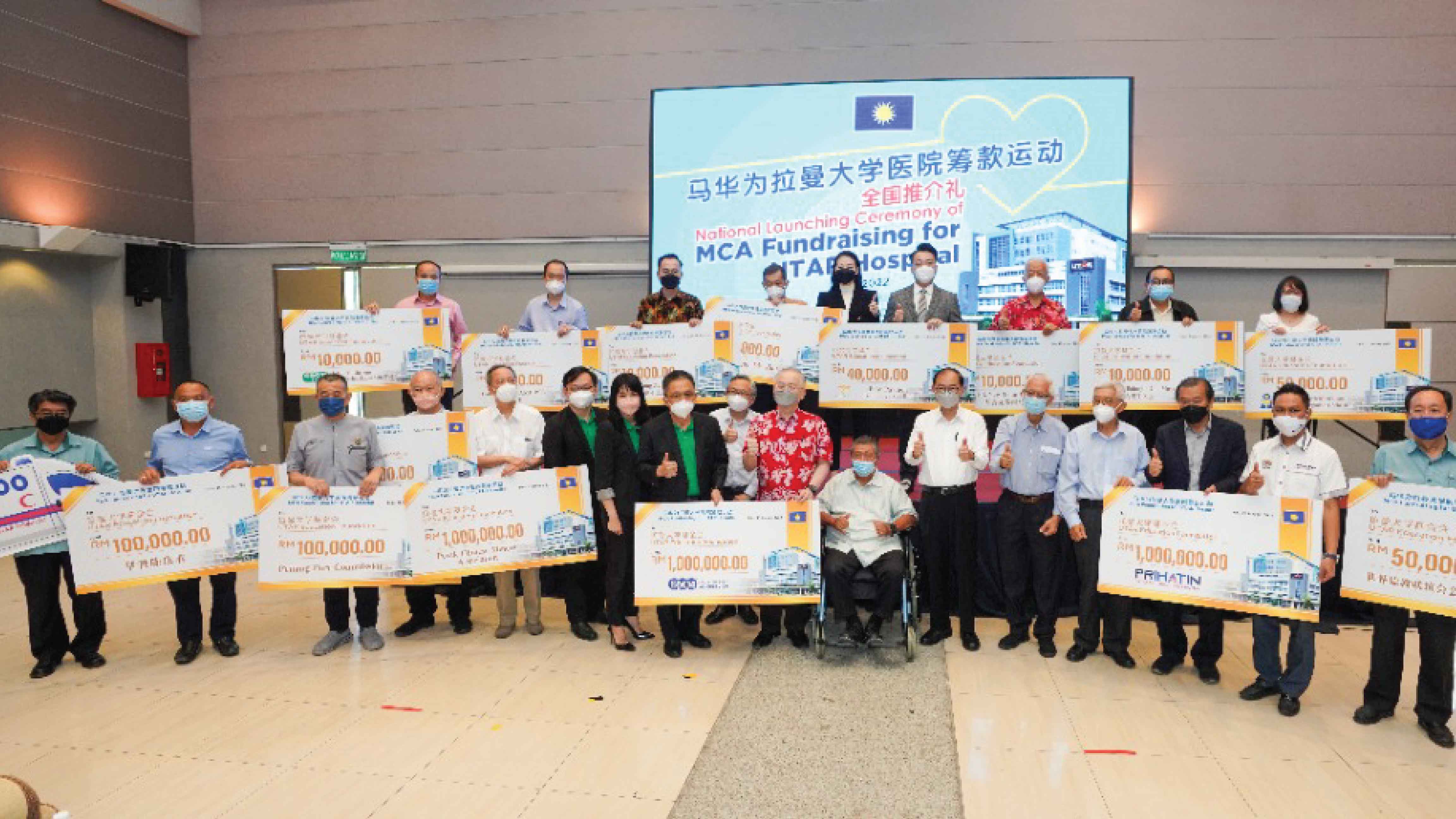 Videos
Environmental Management System
Environmental Management System (EMS)
In the past few years, emphasis has been made on the need for companies to initiate policies that comply with its Environmental Social Responsibility (ESR). This is to ensure :
Protection of the environment
Elimination of waste and toxic emissions
Maximization of resources and productivity
Reduction of activities that might impair the enjoyment of resources by future generations
DXN employs a successful Environmental Management System (EMS), which is a set of processes and practices that enable DXN to reduce any negative repercussions on the environment and increase the efficiency of its operations. ISO 14001 are internationally agreed standards that sets out the requirements for an environmental management system, which helps organizations to improve their environmental performance through more efficient use of resources and the reduction of waste. Hence, with the implementation of ISO 14001 in DXN, it is ensured that DXN's policies and practices are in accordance with the Environmental Social Responsibility.
Management of Waste
Any manufacturing process will result in by-product or waste. It is unavoidable, hence proper management of the waste material is required to ensure there is no adverse or harmful effects on the environment.
Water that is produced during the manufacturing process could be hazardous to the environment or human health, so DXN practices safe waste water management that is in compliance with ISO 14001 and the EMS. The waste water is treated and tested to ensure it is not hazardous before it is discharged.
The bag logs or bag waste, after the harvest of Ganoderma fruit bodies, will be sent to the biomass collector to be recycled as biofertilizers or for other purposes. While those that cannot be recycled will be sent to the Municipal Council for disposal.
Management of Emissions and Contaminations
No chemicals are used throughout the whole cultivation process of Ganoderma as DXN has obtained the MyOrganic Certification from the Department of Agriculture, Malaysia and also the European Organic Certification. Zero usage of chemicals is the compulsory and mandatory requirements.
One of the requirements of ISO 14001 is the curtail of CO2 emission, which is a greenhouse gas. In DXN, for any processes that involve air emission, it is ensured that it is under the permissible level, as per the Environmental Act. The procedure for energy emission monitoring and measurement, such as noise and smoke, complies with the rules and regulations administered by the Department of Environment (DoE).
In DXN, there are no issues of soil contamination as the Ganoderma cultivation is in bag form, and not planted in the soil.
Quality Management System
Quality Management System
DXN has taken measures to ensure its business operations is in total compliance with all the provisions of business ethics, such as the Malaysia Direct Selling Act 1993 and also the Direct Selling Association of Malaysia (DSAM) Code of Conduct. Product quality and safety are key factors to building trust in the brand and ensuring customer satisfaction.
To ensure the effectiveness of our quality control system as well as in line with good quality management practices, our factories are operated with compliance to high standards of hygiene control. The company has been accredited with the following Quality Management System certification :
ISO 9001 : 2008
Therapeutic Goods Administration (TGA)
Good Manufacturing Practice (GMP)
Hazard Analysis and Critical Control Points (HACCP)
ISO 14001 : 2004
MS ISO/IEC 17025 : 2005 (SAMM)
DXN also has the myOrganic Scheme certification from the Ministry of Agriculture and Agro-Based Industry Malaysia as DXN fulfilled the necessary Malaysian Organic Scheme requirements for crops. In addition, DXN is a member of the Water Quality Association, which is the international trade association of dealers and manufacturers/suppliers in the residential, commercial and industrial water treatment industry. With this membership, DXN ensures compliance to the industry's code of ethics.
For ensuring better maintenance of quality, further steps have been taken by DXN such as the establishment of a water plant for water purification. Equipment that can aid in quality improvement have also been procured such as the equipment for metal analysis. Using this equipment, testing is done on the raw materials and finished goods to ensure the products are of the highest quality. This reflects the company's policy of offering high quality yet affordable products and that when it comes to the maintenance of quality, all possible avenues are explored.
Customer Satisfaction
Customer Satisfaction
The company advocates the consumption of health food supplements not as a means to supersede all medicinal treatment but to complement it as well as to act as a preventive measure. To further protect the customers' interest, DXN has insured its product with a RM4 million product liability insurance coverage for its worldwide customers against the risk of consumption. This is a testament of DXN's commitment to ensure that it is reliable and trusted by its customers all over the world.
The introduction of DXN's online system allows DXN's customers and members to keep track of their transactions and earnings. The online order system also eases purchase of products. A consumer at any part of the world can order DXN products online and have it delivered to their homes within a short period of time. This online system has contributed significantly to a boost in the demand for DXN products and an increase in the sales of the products locally and overseas.
Information Technology is also widely used in the manufacturing process. To ensure efficient control of the inventory level, the company established a system that keeps track of the inventory level of the raw materials so that sufficient buffer is maintained in line with DXN's "Just in Time" Practice. This prevents wastage of materials and products and ensures the quality of the materials are maintained at a maximum level.
Employee Satisfaction
Employee Satisfaction
DXN recognises that its employees are one of its important assets. DXN employees are granted fair and equitable terms of employment besides being offered equal opportunities for career advancement based on performance, experience and academic qualification irregardless of race and gender. DXN constantly upgrades its employees' skills and knowledge, enhancing the individual's competency.
DXN employees' safety and health in the workplace are one of its priorities and never compromised. On-going training, counseling and industrial accident prevention programs are constantly held to ensure a higher level of awareness of safety requirements are being disseminated to all employees at all levels. Emergency response teams are formed to evacuate and provide aid during emergencies.
DXN also recruits students from universities, colleges and technical schools as part of DXN's internship program for the students' industrial and practical training experience.
DXN's employees are encouraged to perform at their optimum and to constantly share their talents and skills for the benefit of the company. High quality hardware and software are purchased, when required by the employees, so as to ensure maximum output.
However, provisions are made for rest and relaxation and to show appreciation for the employees' dedication and hard work. Team-building camps are organized at resorts to build rapport among its staff and to enhance knowledge. Company trips around Malaysia, and to countries like Thailand, have also been organized to reward the staff for their contributions.
Starting from January 2019, an internal monthly newsletter for the employees was launched. With this newsletter, the employees are given informative tips to improve their work and to enhance their general knowledge. They can also learn of all the recent happenings and developments within the company.
During all major festivals, luncheons and dinners are organized for all DXN employees. One of these is the Hari Raya luncheon, titled "Glam Raya" on 29 June 2018, organized for employees from the DXN Farm and Factory. For the DXN employees in DXN Alor Setar, an Annual Dinner, with the theme of "Fairytale Magic Comes Alive Tonight" was organized on 19 January 2019. During these luncheons and dinners, DXN employees are recognized for their performance and loyalty, with long service and best attendance certificates being handed out to the deserving employees. Lavish lucky draw gifts are also handed out during these events. On 22nd February 2019, DXN entertained their employees and distributors by inviting a lion dance troupe to perform. Everyone was then treated to some light refreshments. These kinds of events serve as a break from the monotony of work and create a sense of excitement for the employees.
Social Obligations
Social Obligations
In the pursuit of success, DXN ensures its social obligations are not neglected. In its commitment towards community development, social groups and learning institutions have been warmly welcomed to the DXN farm and factory for educational and research studies. Since DXN's inception, there have been various formal visitations to the DXN farm and factory at Bukit Wang, Jitra, Kedah from universities, schools and government Ministries.
Under the Program Kecemerlangan Industri Negeri Kedah, which was organized by the Food Safety & Quality Division, MOH Kedah, DXN had the privilege of serving as a role model of a food industry company that complies to all GMP requirements. DXN's facilities that comply to GMP were shown as an example during the plant tour.
Over the years, DXN has also conducted several charitable programs through its sponsoring of DXN Care activities to orphanages and old folk homes, goodwill advertisements and direct donations to various charitable organizations such as the International Buddhist College, Thailand, and so on. Through DXN's Night Blindness Project in Pakistan, DXN has aided in providing relief and better quality of life to children suffering from night blindness.
Vigorous donation drives are enthusiastically organized during natural disasters such as floods, typhoons, earthquakes, and so on. One example is the donation drive during the recent Nepal Earthquake in 2015.
DXN utilizes the concept of One-To-One donation, which means DXN will match the donation received from DXN members, thus doubling the overall amount of donation. This ensures maximum effort is made to collect as much as possible to help the victims.
DXN practices humility in its social obligations. There is no major publicity such as media coverage for its charitable programs to gain recognization for the company. DXN's aim is only to give a helping hand to those in need.
On August 17th 2018, DXN showed its continuous commitment to Corporate Social Responsibility (CSR) by successfully hosting a blood donation drive at its Stargate Office, in Alor Setar, Kedah. This social responsibility initiative was jointly organized by DXN and Hospital Jitra, Kedah, whose team of medical experts ensured the drive was operated in a safe and hygienic way. All DXN employees were encouraged to donate blood during this drive. Overall, a total of 40 bags of blood were collected at the conclusion of the event, and will be used by the hospital to replenish their blood bank stock and to save the life of the patients in need. The blood donation campaign is part of DXN's CSR agenda, in the pursuit of enhancing the company's devotion to creating a healthier life for the local community.
With the success of the previous blood donation campaign, another blood donation drive, with support from Hospital Jitra, Kedah, was organized on 15 March 2019 at the Stargate Office, in Alor Setar, Kedah. The event was held on a larger scale with the drive not only being opened to staff and distributors, but also opened to the public. People from all walks of life, DXN's management team, staff from the DXN Stargate office and the DXN Farm and Factory in Jitra, Kedah, DXN distributors, and the general public, came in droves to support the program. To show appreciation for the participants' generosity and selflessness in wanting to help those in need, complimentary gifts of DXN products and a free burger from the adjoining establishment, DXN Cafe, was given to the donors. Overall 52 bags of blood were collected during this campaign. DXN's next blood donation drive is tentatively planned for September 2019.
Covid-19 Crisis in India
The Covid-19 pandemic has devastated the world, affecting lives in terms of health and livelihood, but it hit India like a tsunami wave in April 2021, with almost 25 million cases and over 274 thousand deaths as of 17 May 2021.
In an effort to help and support India in their covid-19 crisis, DXN contributed life-saving essential equipment such as Oxygen Concentrators and other vital items such as Masks, PPE kits, Glasses, etc. DXN's Founder and Chairman, Datuk Lim Siow Jin released a statement with regard to this humanitarian activity, "We sincerely express our gratitude to the government for the extreme support in executing this process. We also want to mention and thank the Customs Department and Nodal Department for the tax waiver of IGST for extensively supporting our donation activity."